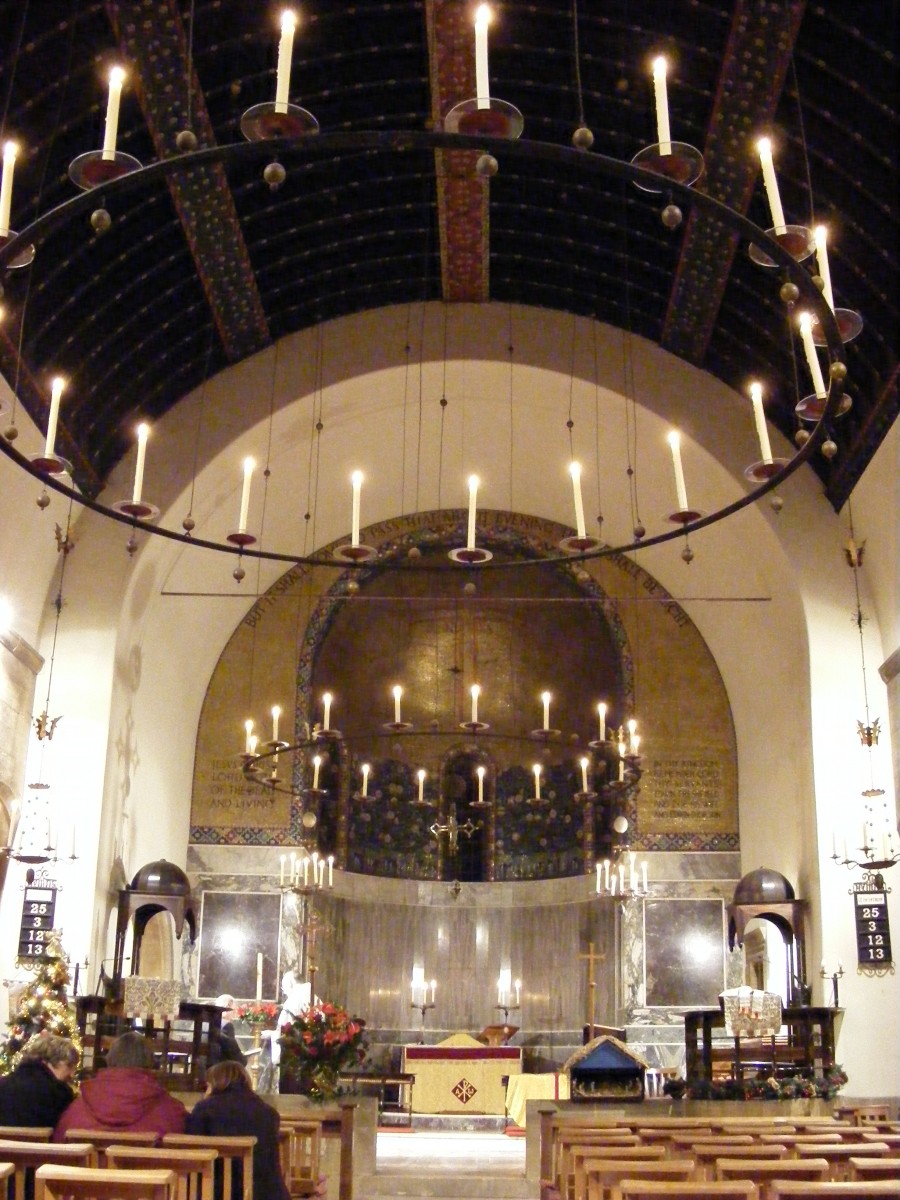 About the church
Built: 1891
Architect: Sidney Barnsley
Listing: grade 1
The church of the Wisdom of God is unique in England: it is built like a Roman basilica and is filled with treasures from ancient Rome and Byzantium. The church was the inspiration of two Victorians, Dr Edwin Freshfield and Sir Henry Cosmo Orme Bonsor, Bart., both residents of Kingswood. The church was designed by Sidney Barnsley F.R.I.B.A. according to the wishes of the two sponsors. It was built by the local firm of Murray and was dedicated on the 17th July, 1892.
As a Roman basilica, the church is rectangular, dominated by a beautiful central apse on the eastern, altar wall. The design captures the sense of peace and space so often found in basilican churches. The plan is in fact derived from the Church of St Irene in Constantinople, built by the Roman Emperor Constantine in the 4th century AD (see ground plan). The exterior is of brick and Ham stone, some of the brick being used decoratively in Byzantine lattice and herringbone patterns. The interior is decorated with fine marbles and mosaics in the manner of Roman and Byzantine basilicas. Most of the marbles are Roman: some come from Roman columns and others from hewn blocks left in ancient quarries in the Middle East. The exceptions are the newer marbles on the floor of the nave and chancel and some of the marbles in the baptistery.
The name of the church is derived from a Byzantine tradition of associating different churches of God in the same city with attributes of the Creator. For example, in Constantinople (modern Istanbul) the mightiest imperial church was the Church of the Holy Wisdom, or Sancta Sophia, while the Church of Divine Peace was also known at St Irene.
To avoid disappointment, please make prior arrangments when visiting this church outside of service times.